Welcome to Kempston Rural Primary
An Outstanding School
Inclement Weather
If the weather changes and we experience heavy snow it is sometimes necessary to close the school. Could I reassure parents that this decision is never taken lightly and is only made when conditions for getting to school and moving around the school site become too hazardous for children and staff. Should it become necessary to close the school you will be informed via a text message. You will also find information on the school website, www.kempstonrural.beds.sch.uk or on the Bedford Borough website, www.bedford.gov.uk
New School Day Times - From Monday 7th January 2019
Please remember the new school times as of 7th January 2019. The gates will open at 8:25am and close at 8:35am. Registration will take place at 8:40am. This applies to the whole school.
Collection at the end of the school day will be 3:10pm for EYFS and KS1 and 3:15pm for KS2 Monday to Thursday. Collection on a Friday will be 1:30pm or 3:10pm for working parents if booked into after school care.
Year 6 Pancake Sale
Year 6 held a pancake sale to raise money for new books for our school library. A great time was had by all and the sale was a huge success; we raised a grand total of £240. We would like to say a huge thank you to everyone for their generosity and support. We can't wait to start filling our library with fantastic new books!
Mrs Redmond and Year 6
The whole school joined in with Safer Internet Day. Each year group took a different element of online safety and completed activities around this. As a school we take part in this each year to highlight the importance of how to keep safe online, parent information can be found in our 'useful links' section of the website.
Please click the link below to find out what each year group did on this day.
Children across the school helped Jo Roberts from the Marston Vale Forest Centre to plant trees around our school grounds. this will give us more privacy around our boundaries but will also make our school site more natural. The children learnt all about the development of trees and how to care for them before helping to plant them.
Children in Key Stage 2 are now experiencing what Forest School is all about. Year 3 children made dens using their own ideas and a lot of team work and designed their own cave paintings linked to their topic of the Stone Age. They absolutely loved being outside and working in a different style.
Children in KS2 spread a little festive happiness on Thursday 20th December by singing carols to shoppers at Lidl supermarket.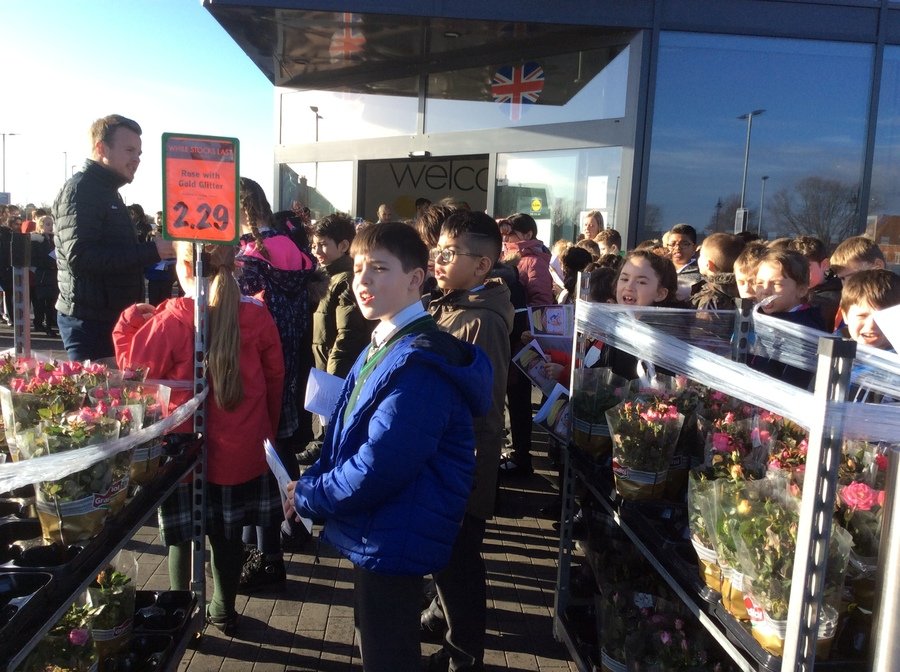 Daily Mile
The children at Kempston Rural Primary School are thoroughly enjoying their morning 'Daily Mile.' Children begin each morning with 15 minutes of exercise with their class teacher running (or walking when necessary). We have noticed a huge increase in concentration levels amongst our children. This has added an extra 1hour and 15 minutes physical activity each week for every child, which has already shown fantastic results in increased stamina.
Music Performance
The whole school enjoyed a fabulous music performance from Bedford musicians. They learnt about a range of instruments and what the musician needs to do in order for them to work. The children enjoyed listening to a range of songs including current pop hits, film theme tunes and also had the opportunity to clap sing along .
SPAG Morning for KS1 and KS2 Parents
The Grammar and Punctuation mornings were a great success. Thank you to all those parents who supported this event. For parents that did not attend, but would like to receive a parent training pack, please contact Mrs Redmond via the school email address office@kempstonrural.co.uk and we will ensure that it goes home with your child.
Safer Internet Day February 2018
The children in Year 5 produced presentations on the theme of keeping safe on the Internet. The one you see here was created by Nicole and Erkan.
For information on how to keep your child safe on line, follow this link for parent advice;
http://www.childnet.com/parents-and-carers
Christmas Foodbank
Thank you for your generous contributions for the Bedford Foodbank Christmas in a Box appeal. Please find attached a thank you letter from All Nations Church.
Forest School
It is recognised that children benefit considerably both emotionally and academically from receiving an outdoor curriculum. Research shows that children and young people are stimulated by the outdoors and typically experience, over time, an increase in their self-belief, confidence, learning capacity, enthusiasm, communication and problem – solving skills and emotional well-being. For this reason the school has developed its own Forest School area, where children across the school regularly take part in 'outdoor' learning.
We care about E-Safety at Kempston Rural Primary School. The children worked hard to create this display which shows the importance of keeping safe on the internet.
The children worked together to make an ICT vision.
'We believe that ICT at Kempston Rural Primary School is fun. It helps us to search for new information and extend our learning. It is typing, using the internet safely, working with computers and IPads. We want to learn new skills all the time because we use ICT everywhere. It is a lifelong important skill'.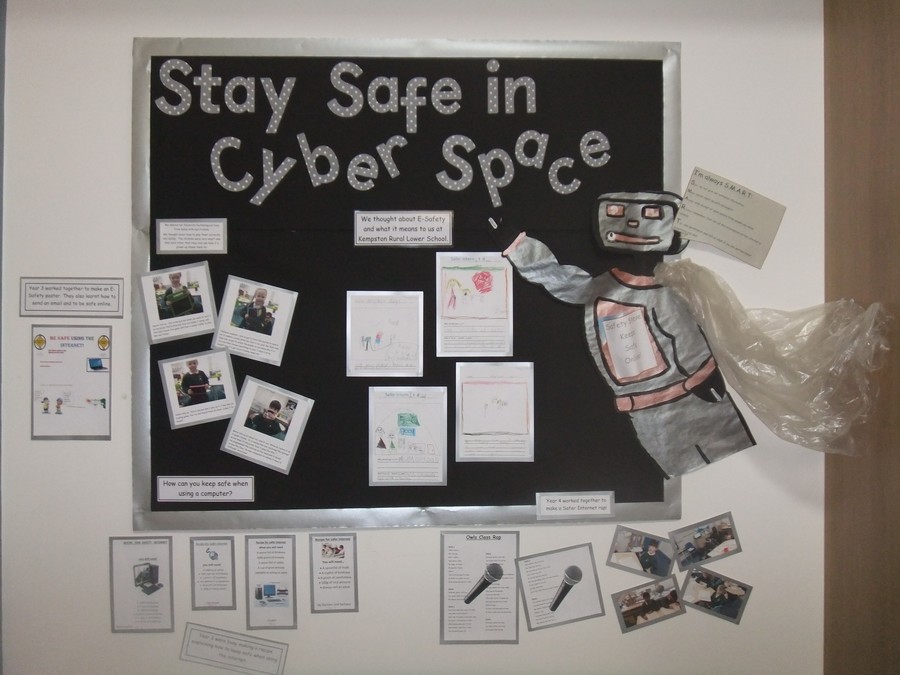 School Prospectus
In line with 'The School Information (England) (Amendment) Regulations 2012', we no longer issue a paper copy of our school prospectus. Instead our Website is our online prospectus. The benefit of this is that information can be updated instantly and parents are therefore better informed. Our website includes all relevant information, however, if there is any further information that you require, or you require a paper copy of any information on our school website, please do not hesitate to contact our school office on 01234 854286 or email office@kempstonrural.co.uk